On November 9th, 2016, the artists listed below accepted awards for their musical creations at our red carpet press event at the Hard Rock Cafe on Hollywood Blvd. Over 500 people attended the show, which was also covered by almost every major news photo service agency in Los Angeles.
We congratulate all our of our distinguished award recipients from 2016!
2016 Producers Choice Honors Recipients
Phil Celia: Male Singer-Songwriter of the Year
Justin Lanning: Outstanding Songwriter
Joe Finley: Outstanding Musical Performer
Marirose: Outstanding Singer Songwriter
Katherine Farnham: Female Singer-Songwriter of the Year
Daniel Hicks: Outstanding Music Producer
Davey Suicide: Special Achievement Award
Gianni Ephrikian: International Music Producer
Dan Crenshaw: Rock Artist of the Year
Sectas: Outstanding Rock Performer
Mahkenna: Outstanding Pop Single: "No Regrets"
Justing Lanning: Outstanding Rock Single: "Behind These Eyes"
Sean Ward: Outstanding Country Single: "Drive"
Barrie Dempsey: Outstanding Country Artist
Kenny C: Outstanding Country Music Performer
Eileen Carey: Female Country Artist of the Year
Randall Zwarte: Outstanding Live Performer
Beau Tyler & We The Ghost: Outstanding Live Musical Group
The Swanson's: Rock Album of the Year
Rick Schroeder: Male Vocalist of the Year
David Osborne: International Touring Artist of the Year
Dave Darin: Career Achievement On Air Radio Personality
Kat Vinson: Special Achievement in Music Management
Aysha: Outstanding Live Jazz Performer
Angel Smythe: Outstanding Rock Album: Best of 25 Years LAMA
Kirk Hulshoff: Outstanding Male Rock Vocalist: Best of 25 Years LAMA
Charles Ecker: Career Achievement: Country Music Songwriter
Stacy Robin: Outstanding Songwriter, Performer and Producer
Bob DeSena: Lifetime Achievement: Live Musical Performer
Liz Rodriguez: Career Achievement: Hollywood Publicist
Cindy Alexander: Outstanding Music Videos: Best of 25 Years LAMA
Kaisi Berick: Outstanding Solo Producer: Best of 25 Years LAMA
Gary Lee: Outstanding Front Man & Live Performer Best of 25 Years LAMA ( pending )
Michelle Diaz-Leach: Career Achievement in Music Journalism
Beau Tyler: Outstanding Producer, Composer & Arranger Best of 25 Years LAMA
Willie Ames: Outstanding Solo Album: NIGHT OWL Best of 25 Years LAMA
Rockin' Reggie Vinson: 25 LAMA Lifetime Achievement Award ( 2015 LAMA Plaque)
JJ Villar: Career Achievement in Choreography. MJ One Show at Mandalay Bay. Best of 25 LAMA

2016 Hollywood FAME Awards
A Celebration by Fans, Associates, Members and Entertainers (F.A.M.E.)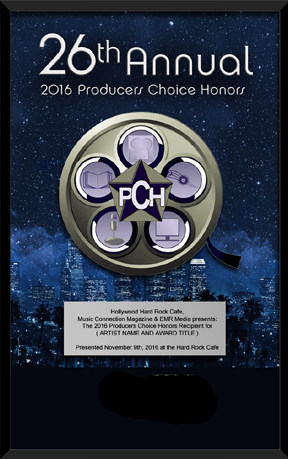 EVENT PERFORMERS in order and the awards they will be receiving.
Hollywood U2 & Joe Heier: Oustanding Tribute Band

Frank Murray, Petty Fever. A Tribute to the music of Tom Petty: Career Achievement: Tribute Artist

Moby Dicks, Led Zeppelin Tribute Act: Chas West: Career Achievement: Male Vocalist &
Mitch Perry: Career Achievement: Rock Guitarist

Berry, Mesey & Scorfino: A Salute to Chuck Berry. The HFA Lifetime Achievement Award

Aubree-Anna: Career Achievement: Female Singer Songwriter

Rockin' Reggie Vinson: A Tribute to John Lennon and other legends of music. 25 LAMA Lifetime Achievement Award

Special performance by The Swanson's, L.A.'s most popular independent band