Al Bowman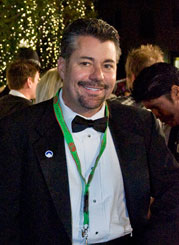 Al Bowman-Executive Producer
Al Bowman is the creator and Executive Producer of the newly formed Producers Choice Honors Red Carpet Press Events, held in both Las Vegas and Hollywood. These productions combine the best of the formats from the Producers Guild Awards, The Peoples Choice Awards and the Washington DC Honors events, all shows that Al Bowman has personally been to through actual attendance. This new awards show venture is the culmination of Al Bowman's 25 years worth of service to the Hollywood Creative Community.
After producing the Los Angeles Music Awards, the Hollywood F.A.M.E. Awards and the Phoenix Music Awards for over two decades, Al started a new, more streamlined operation and awards show production. Utilizing the basic formula of many of the biggest awards shows in the entertainment industry, this new event series allows each recipient to be specially chosen through a discovery process using an on-line system of musical evaluations done by the elite Producers Choice Honors team of event producers.
Throughout his 28 year career in the award show business, Al Bowman has received recognition for his life's work from numerous organizations. Here is a partial list of those accomplishments:
1996: Writer of the Year for Rock City News
2002: Angel Award from the Angels On Earth Foundation
2004: USA Flag Award from Guantanamo Bay Base Commander, Cuba

2004: Career Achievement Award from South Bay Music Awards
2005: Distinguished Service Plaque Presentation from General Jay Hood
for Outstanding Service to the Joint Task Force, Guantanamo Bay, Cuba
2005: Lifetime Achievement Award from Elite B. Records
2006: Music Executive of the Year Award from Rock City News: The Rockies,
2006: United States Presidential Seal Plaque Presentation from President George W. Bush
2007: Event Pioneer Award from Rock City News: The Rockies
2007: U.S. Navy Sea Bee Warrior Plaque Presentation, Guantanamo Bay, Cuba
2007: Lifetime Achievement Awawd from Charlotte Music Awards
2008: Inaugural Hollywood F.A.M.E. Award from Johnny Grant
2010: 20 Year Legendary Achievement Award from L.A. Comedy Awards
2012: A.I. Alan Freed Award for Lifetime Achievement
2016: Inducted into the Rock Godz Hall of Fame
Al is a maverick impresario producer who continues to break new ground with his innovative and unique award show concepts. In the years to follow, many artists will break through into the mainstream of the entertainment industry after coming through the pipeline of the Producers Choice Honors events. This new awards show venture is the culmination of Al Bowman's lifetime worth of service to the Hollywood Creative Community.